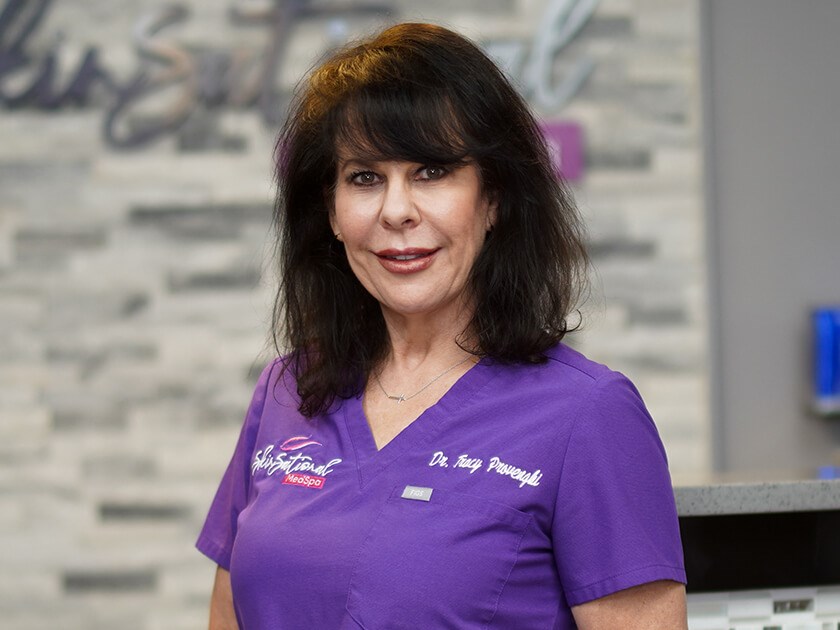 Dr. Tracy Provenghi was born in New Mexico and traveled all over the country at an early age because her father was in the Navy. In her travels, Dr. Provenghi found her love for helping others, a trait that would later lead her into the medical field. After graduating from high school in San Antonio, she attended college at the University of Houston where she graduated with honors from the University of Texas Dental Branch and subsequently obtained her doctor of dental surgery degree. Soon after, she opened her first dental practice in Midland, TX, successfully helping thousands of patients. Dr. Provenghi relocated to El Paso and took some time to raise her two sons. As life would have it, she returned to providing loving dental care in our great Sun City and opened Awesome Smiles, which continues to thrive in life-changing transformations and provides excellent service today.
Reviews
"AWESOME DENTIST!! - Dr. Provenghi is great!! She's friendly, very intelligent and highly experienced! I had my treatment of invisiline with Dr. Provenghi and she's always so nice down to earth, informative of my treatmeant, patient with me and working with my work schedule which is un-heard of in dentistry. Staff is so awesome they honestly make you feel like family!! I love going to my appointments! Which I think really matters when your a patient! Thank you Dr. Provenghi!"
Anonymous
Vitals
"Never Forget A Painless Doctor - I was referred to Dr. Provenghi by the military dental clinic on Fort Bliss back in 2012. In a nutshell, I will have no problem going back to her for dental care. As a matter of fact, I found this website while looking her up, since I have recently retired, and will need a regular dentist. As I remember, the wait time was not long at all. Maybe fifteen minutes if my memory serves me right."
Anonymous
Vitals
"WOW! - The staff at Awesome Smiles were wonderful ,friendly and very concerning about the Sanitation of the office and clients during this time . Dr. Provenghi was amazing, I was in and out within an hour . The extraction was quick and painless and I feel a million times better. Definitely going back and have already referred a few people to her. Thank you to all of you for the great experience you gave to me."
Anonymous
Vitals
"Dr Provenghi was recommended to me a few years ago, turns out it has been a wonderful experience everytime, so glad I switched. Dr and her staff are very courteous, professional and friendly. I had no doubt coming to her clean office during this pandemic. I highly recommend her!"
N.
Healthgrades
"Excellent service. They saw me just at the schedule time. The girl in the front office is very nice, she always welcome you with a big smile as everyone in the office."
Anonymous
Healthgrades